Multimind Project including BM Thessaloniki, BM Konstanz, BM Edinburgh and BM Krakow
Multilingualism: myths, facts, research, and stories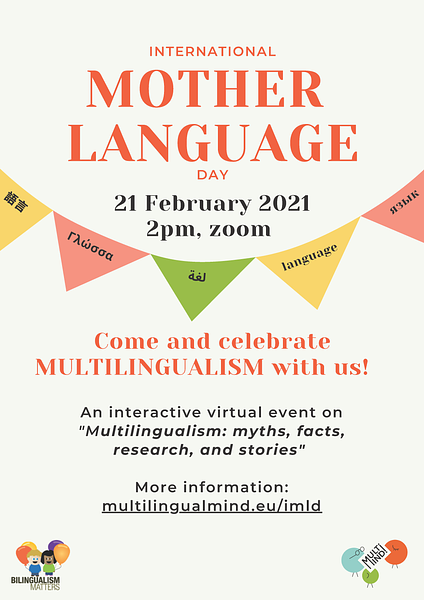 Various times, see website for full details
The MultiMind team together with different Bilingualism Matters branches are organising interactive online events in the following languages: Dutch, English (Malaysia), English (Scotland), Greek, German and Polish. Details and registration: https://www.multilingualmind.eu/imld
BM Netherlands
BM Netherlands with their partners Meertaligheid.be and the Dutch Language Union will launch a set of resources on their website (click here) on 21st February on multilingualism in education for educational professionals, parents and policy makers. This includes a report written by experts from the Netherlands and Flanders, with supporting materials to make the content of the report accessible, such as videos and a frequently asked questions section. These resources will be available in the Dutch langugage.
Check out the first resource, a short video in Dutch.
BM Edinburgh
A Celebration of Multilingualism at the Bhasha Glasgow Language Festival
21 February 2021 2pm – 3pm GMT
Join Bilingualism Matters Edinburgh and the Multimind Project in a celebration and discussion of multilingualism and its myths and facts. The event is for anyone interested to learn more about multilingualism in general as well as multilingualism in the different countries. Click here to register here.
Myths and Facts of Multilingualism at the Bhasha Glasgow Language Festival
21 February 2021 3pm – 4pm GMT
Join Professor Antonella Sorace, Founding Director of Bilingualism Matters for this fascinating talk. Click here to register.
International Mother Language Day with Edinburgh & Lothians Regional Equality Council (ELREC), Bilingualism Matters, Happy to Translate & Lusofanias
22 February 2021 17:00 – 18:00 GMT
Online event with speakers including Foysol Hussain Choudhury MBE, Professor Sir Geoff Palmer, Rt Hon Frank Ross Lord Provost and Prof Antonella Sorace. Click here to register.
Much Language Such Talk
New podcast episode from the amazing BM Edinburgh volunteers celebrating International Mother Language Day will be available from 25 February, and features an interview with Dr Katerina Strani-Jefferson, Associate Professor and Head of the Cultural Studies section at the Department of Languages and Intercultural Studies at Heriott-Watt University. Click here for the website.
Scotland's Languages Landscape: Equity in Diversity
26 February 2021 13:30 – 16:00 GMT
Organised by SCILT and open to Scottish Local Authority representatives and the wider languages community, to celebrate their languages journey and share their achievements. Bilingualism Matters Edinburgh members will lead one of the breakout sessions. More details and registration - click to go to Eventbrite.
BM London
Stories From Home
21 February 2021 16:00 GMT
BM London members at Queen Mary University of London in collaboration with Mile End Community Project, Human Stories Films and Blooming Parenting, are working with London communities to produce a library of short illustrated films based on stories told by grandparents to their grandchildren. Join them for this film screening to celebrate International Mother Language Day. Click here to register.
BM Milan (Bilinguismo Conta Milano-Bicocca)
Raising Bilingualism Children
21 February 2021 (in Italian 11am & English 3pm)
6 March 2021 (English 11am & Italian at 3pm) Central European Time
A series of online events about raising bilingual children, with the opportunity for parents to ask specific questions and to share experiences. Click here to register.