Membership - links to join
If you know what membership type you require, click on the links below. More details on all membership types are further down this page - keep scrolling if you need more information.
Individuals / research
Individuals / professionals and community
If you are a professional working in a public or a non-profit sector (includes social enterprises) please sign up here (£10 + £30)
If you are a professional working in a private sector please sign up here (£10 + £50)
Organisations
Membership details – BM-affiliated Centres
Our original membership route is open via an application process for organisations and groups active in research and dissemination of research-based evidence on multilingualism e.g. universities, research teams, labs and groups of academics committed to work together. All centres appear on our BM Network page.
Membership details – new for everyone - now open!
Our new membership routes opened in May 2022 and are for anyone wishing to join Bilingualism Matters who is not part of an existing BM-affiliated centre.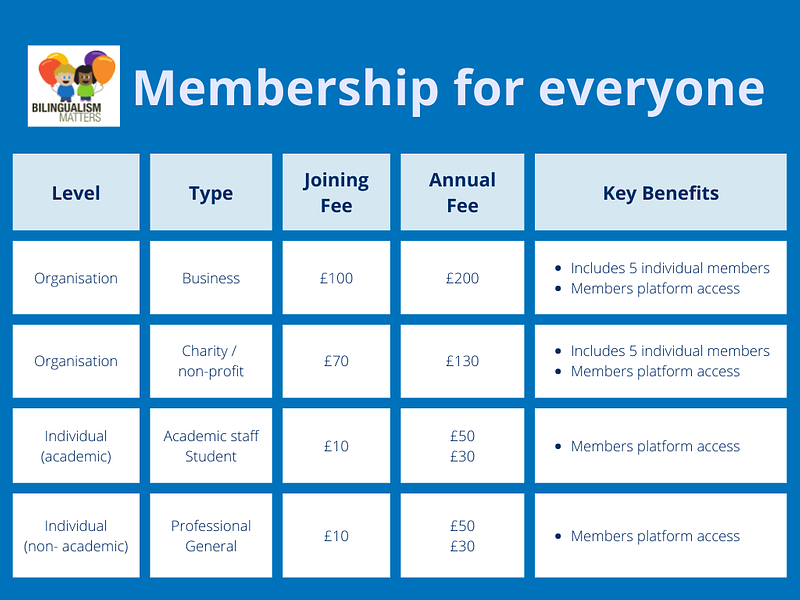 Who is Bilingualism Matters membership for?
Due to frequent requests, we haved extended Bilingualism Matters membership beyond the original BM-affiliated centre (or branch) route. Our new member platform allows all BM members to access a networking space with active news feeds, interactive subject-specific forums and member-only events, both online and offline.
Our new individual membership is open to anyone with an interest in research-based information on bilingualism and language learning. As well as academics and students who are not at BM-affiliated centres, we welcome professionals in public and private health, education or policy making, community group members, parents and carers raising children with more than one language, multilinguals and anyone with an interest in language learning research.
Our new organisational membership is open to non-research organisations interested in research-based evidence on multilingualism and language learning. Examples of organisations who might be interested in joining are heritage, minority and foreign language schools, associations and community organisations, language-focused businesses, and businesses employing a multilingual workforce.
What are the benefits of Bilingualism Matters membership?
All members have networking, collaboration and resources access via the BM membership platform, as well as skills and development opportunities.
All academic members benefit from dissemination and impact opportunities, as well as research and knowledge exchange opportunities.
BM-affiliated centres have use of the BM brand and logo, an online presence on the BM website and involvement opportunities in BM governance.
Want to know more?
If you want to discuss in more detail what membership could mean for you or your organisation, please email us: info@bilingualism-matters.org