Research summary written by Lena Lorsché, Master student at the University of Luxembourg
Read the French version here.
Picture credit: pixabay.com
***
Take a look at this image from a Japanese website offering online English classes (the image originates from the book: Transcultural Communication Through Global Englishes. An Advanced Textbook for Students by Will Baker and Tomokazu Ishikawa).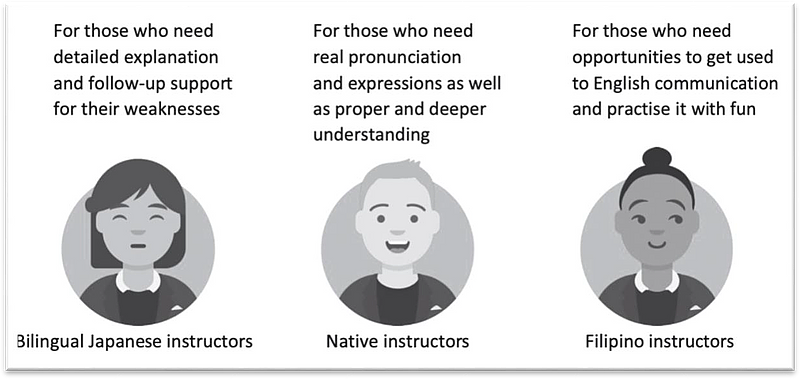 Only the middle teacher who is a white man with blond hair seems to be proficient in English pronunciation and expressions. It is suggested that teachers coming from an English-speaking region are the only ones capable of providing correct and authentic English classes. The two remaining teachers from Japan and the Philippines are portrayed as second-class teachers.
Two researchers from the University of Southampton describe this phenomenon which frequently occurs in education. In fact, teacher job requirements often include English native speakerism. The belief that only native speakers are competent English teachers leads schools to strongly favor them in the hiring process.
Not only are native speakers associated with a perfect mastery of English, but also with an English-speaking country of origin. Thus, this background would make them capable of teaching English culture (its traditions and rituals).
Because of those associations and beliefs, we subconsciously think that native speakers are the best teachers. We are convinced that they can speak 'proper' English, without any interference from another language. The native teacher seems to be the only judge about right or wrong expressions. Consequently, the taught English language will remain 'pure' and authentic.
However, you should know that these beliefs are not science-based.
First, it is difficult to distinguish a native speaker from a non-native speaker. You will probably say that a native speaker is a person who was born into a certain language. But what does that mean? Would a person who speaks African American Vernacular English be considered a native speaker by these job offers?
Second, there is no proven link between a person's mother tongue and fluency in that language. Neither is there a link between a mother tongue and a region or ethnicity. This link is created through society. The fact that a person is 'born into a language' does not imply that he or she has specific linguistic and cultural skills.
So far, we have only talked about beliefs in our heads. However, these beliefs can become dangerous when they turn into discrimination. In fact, we face injustice when employers refuse jobs to people simply because they are not native speakers. Since there is no universal link between mother tongue and proficiency, this practice is highly unfair.
Finally, this belief and its consequences take away important diversity from school since people whose first language is not English can bring an additional cultural background to the classroom. Furthermore, non-native speakers have obviously learned a second language, which can be beneficial to students who are also learning a new language.
It is therefore high time to become aware of these links, which sometimes appear so evident that we fail to question them.
If you wish to learn more about this topic, feel free to read Will Baker and Tomokazu Ishikawa's book from 2021: Transcultural Communication Through Global Englishes. An Advanced Textbook for Students.
* * *
Further reading:
Panaligan, J.H., Curan, N.M. (2022). "We are cheaper, so they hire us": Discounted nativeness in online English teaching.

Journal of Sociolinguistics

. https://onlinelibrary.wiley.com/doi/abs/10.1111/josl.12543
The article is part of the initiative Student Ambassadors of the Multilingual Experience. Our students have prepared some interesting topics for you – just scroll down the project page to the section "News" – you will find more blog posts to enjoy!).