Arts in Tongues is a project aiming to bridge the communication gap between the academic world, the arts industry and local communities.
The project recently won the Collaboration Award at the Creative Edinburgh Awards. Bilingualism Matters at the University of Edinburgh worked in partnership with innovative language learning theatre company, Theatre Sans Accents, and arts and early years organisation, Starcatchers UK.
Project partners held in-person community workshops to share information on languages and bilingualism in a fun and accessible manner. The project also published a mini-web series of six short online videos, filmed by award-winning short film director, Lucas Chih-Peng Kao.
In each episode, one of six Edinburgh-based bilingual artists playfully explores the relationship between their artistic practice and their linguistic and cultural heritage, in conversation with the project lead Marion Geoffray from Theatre Sans Accents. With a backdrop of key outdoor locations around Edinburgh, the videos also connect with the culture, geography and history of Scotland's capital.
The first episode features Cynthia WS Cheung in the Meadows public park, with a backdrop of Arthur's Seat. Cynthia is a freelance multidisciplinary art practitioner, stage manager and performance maker, originally from Hong Kong and now living in Edinburgh. She speaks Cantonese, English and Mandarin. In the video, she discusses her experiences as a bilingual artist from another culture living in Edinburgh and shares a fun, multi-sensory activity for learning Chinese characters.
Cynthia Chueng, Arts in Tongues Artist:
"As a minority race in Scotland, that gives me a responsibility to deliver multiculturalism within my artistic practice to the community to eliminate racial discrimination and create a safe and positive environment for everyone. It has a sense of mission to be a diverse bilingual artist in Scotland."
The series goes on to feature writer Jessica Gaitán Johannesson in an episode filmed beside Edinburgh Castle, who discusses interesting words in her mother tongues of Spanish and Swedish; Finnish dance artist Pirita Tuisku at Craigmillar Castle Park; Icelandic freelance director and playwright Kolbrún Björt Sigfúsdóttir at the Shore in Leith; Italian theatre director, producer and facilitator Ida Casilli on Leith Walk; and Chilean musician Jose Rojas Navea, drumming with languages from Edinburgh's Pilrig Park.
The project showcases and celebrates diverse communities in Edinburgh, representing some of the many faces and tongues of people living in Scotland, giving visibility to under-represented bilingual artists in the performing arts industry.
Project lead Marion Geoffray wants to expand on the success of the project. She is working to secure further funding in order to develop Arts in Tongues and for more diverse artists around the whole of Scotland, bringing the facts about language learning and bilingualism from research to more communities.
Marion Geoffray Project Lead, Arts in Tongues:
"With this project I want to share that the world is at the tip of the tongue, that you don't have to be fluent to widen your horizons, that the arts are a shared universal language that we all have the potential to "speak" regardless of where we're from or our abilities."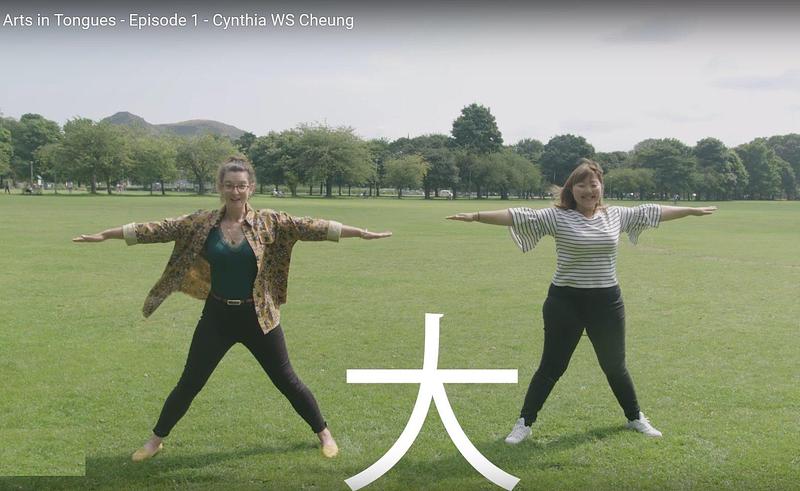 Find out more and watch the videos on our Arts in Tongues project page.