This doctoral project explores experiences and perceptions of language workers in a European institution, aiming to promote meta-pragmatic awareness and efficient ways of communication in a multinational workplace.
The investigation builds upon a pilot study in a terminology and communications unit in an EU institution that took place in 2018/19 in Luxembourg. In follow-up research, participants reflected on their expectations, experience, plans and broader social effects linked to their meta-talk on language and multilingualism.
Results should improve employee experience in the workplace and inspire enhancement of management of language practice in transnational teams.
Doctoral researcher
Veronika Lovrits, University of Luxembourg
Supervisor
Prof. Dr. Sabine Erhart, University of Luxembourg
Main research question
"What can metalanguage reveal about sociopragmatic intentions and their implications for language-related behaviour in a (potentially) multilingual workplace within an EU institution in Luxembourg?"
www.linkedin.com/comm/mynetwork/discovery-see-all?usecase=PEOPLE_FOLLOWS&followMember=veronika-lovrits
----------------------------------------------------------------------------------------------------------------------------
2022 Nigel Holden Prize
received for the doctoral research paper "French and language ideologies in a multilingual EU institution: Re-constructing the meaning of a language choice" at the 15th Annual GEM&L Conference "The multiple facets of language in international organizations: New directions for research", University of Passau, Germany.
----------------------------------------------------------------------------------------------------------------------------
Interview at the European Parliament
https://termcoord.eu/2022/05/interview-with-veronika-lovrits/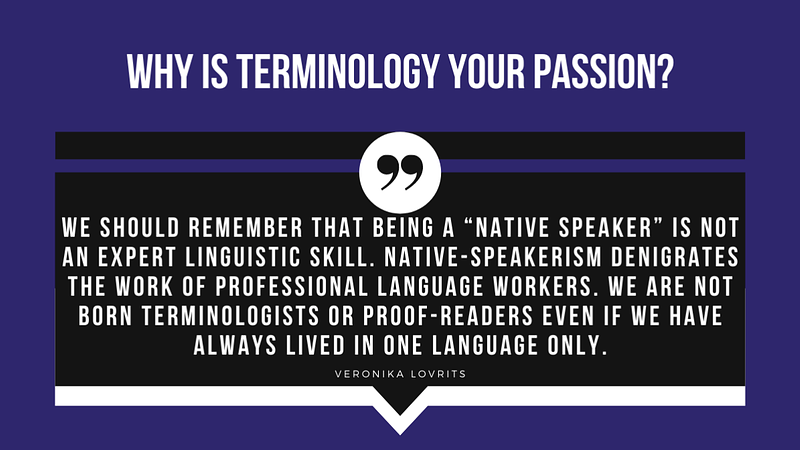 ----------------------------------------------------------------------------------------------------------------------------
Related academic publications
Lovrits V. (2022). Making meaning of multilingualism at work: from competence to conviviality.

Journal of Multilingual and Multicultural Development

. https://doi.org/10.1080/01434632.2022.2047987 (open access)
de Bres, J. and V. Lovrits (2021). Monolingual cringe and ideologies of English: Anglophone migrants to Luxembourg draw their experiences in a multilingual society. J

ournal of Multilingual and Multicultural Development

. https://doi.org/10.1080/01434632.2021.1920965 (open access)
Lovrits V. and J. de Bres. (2021). Prestigious language, pigeonholed speakers: Stances towards the 'native English speaker' in a multilingual European institution.

Journal of Sociolinguistics 25

(3), pp. 398-417. https://doi.org/10.1111/josl.12431 (open access)
----------------------------------------------------------------------------------------------------------------------------
Conference contributions
"Traineeship in an EU institution: Getting ready for a multilingual workplace"

International conference "Teacher Training in Europe, "Pädagogische Hochschule Freiburg and Jean Monnet Chair Freiburg for European Education and Center for Teacher Training of the University of Education Freiburg (DE)

, 25.-26. June 2022
"French and language ideologies in a multilingual EU institution: Re-constructing the meaning of a language choice"

The 15th GEM&L International Conference on Management and Language; Groupe d'Études Management et Langage Strasbourg, Universität Passsau (DE)

, 19.-21. May 2022
"Practical effects of socio-pragmatic framing of languages in the workplace"

Multilingualism in professional life, Università di Verona (IT)

, 25.-26. November 2021
"Adverse 'native speaker' effects following Anglophones in the multilingual workplace"

The Ninth Brno Conference on Linguistics Studies in English: Patterns and variation in English language discourse, Masarykova Universita Brno, (CZ)

, 16.-17. September 2021
"On socially constructed aspects of language (in)competence: Raising critical language awareness in the multilingual workplace"

PhD Conference in Social Sciences, University of Luxembourg (LU)

, 19. November 2020